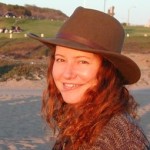 Call her a jack-of-all-trades…a wearer of many hats…a wordsmith with experience north and south of the border. Yvonne began her career in journalism with a brief stint at the Los Angeles Times, but life and love soon propelled her to Caracas, Venezuela, where opportunities abound for anyone with intuitive translation skills and a knack for catchy prose.
Her topsy-turvy time in South America included work as the house translator for a bilingual travel magazine; writer and copy editor for a prominent business magazine; and a gig as food critic in a national newspaper (darn country-wide strike/coup d'état short-circuited that dream job).  Once again Stateside, Yvonne flexed her writing and editing muscles at a national non-profit advocating for the protection of children and animals.
Currently, Yvonne finds immense enjoyment as the copy editor for Skylark Press, publisher of fine art books, music and entertainment, and blogging about all things relating to the MBA admissions process for Stacy Blackman Consulting.
Notice the varied experiences and areas of interest? Yvonne tackles diverse subjects with enthusiasm. Whether you are looking for a collaborator to polish your manuscript while keeping your voice intact, or need a pitch-perfect piece of original, non-fiction work, or a translator who can make your material sound, well, like it's not a translation, you may have found the perfect person for your job.
Contact Yvonne today to find out…